During every major crisis over the past nine decades, whether it be World War One (1914), the Great Depression (1929), World War Two (1939), the John F. Kennedy & Martin Luther King Assassinations (1963 & 1968), riots and upheavals of the 1960's, 9/11, Global Financial Crash (2008) and now the COVID – 19 Pandemic coupled with the senseless murder of George Floyd, just to name a few; citizens have always look to leadership for a crisis management plan in order to provide confidence and a way forward so that they can see a light at the end of the tunnel and make a contribution.
Dr. James Harter, Chief Scientist says that in a time of crisis there are two directions human nature can take us. One is laced with fear, helplessness, panic, blame and victimization, while the other is filled with self – actualization, engagement, gratefulness and appreciation. If leaders have a clear participatory Vision backed by Understanding, Clarity and Agility (VUCA Effect) people will possess and demonstrate a high degree of resiliency.
With many areas entering the re-opening phase of COVID – 19, the post COVID phase might be upon us quicker than we may realize. With a number of companies suffering financially from this pandemic there is pressure on all levels of government to expedite the re-opening phase and take some calculated risks.
In turn, it is easy for leadership to lose hope in their ability to coach, facilitate and motivate employees when there is internal and external pressures such as employee uncertainty, financial risks and a future that is not yet defined.
This is where leaders can tap into employee talent and sense of purpose to do better. As organizations invest in a somewhat undefined future, leaders are wise to mobilize the business objectives and understand the sense of employee well being as critical input into the planning process.
One hypothesis is a strong focus on organization and business unit purpose. As organizations re-evaluate current business models – ask yourself the question; where are the new growth opportunities? Hubert Joly in his May, 2020, Harvard Business Review article talks about the Best Buy Turnaround. Joly states that the company unlocked latent demand it didn't know was available by deploying an in-house advisory program with new technical support services. It also entered the health market, deploying technical aid to seniors living at home and senior residential places. Instead of cost cutting and staff reduction, Best Buy found new growth and ways to retain and develop employees.
Opportunities are not only limited to the Best Buy scenario. Dillon's Canadian Rye manufactures moved from alcohol to antiseptics, Louis Vuitton from clothing to face masks and hospital gowns, Bauer from hockey equipment to face shields and educational institutions moving to 100 % on line studies – just to name a few. The NOW normal is here and uncertainty will accompany it.
In my May, 2020 article (see the Pollice Management Website) I spoke of the four cornerstones of strong leadership. They were Vision, Honesty, Integrity and Compassion. I am not going to speak to them again however, I want to demonstrate how these four cornerstones work together and allow us to lead post COVID – 19 by focusing our energy on change and transition
Change vs Transition.
If leaders are to be successful in the post COVID – 19 environment, it is imperative that they understand the difference between change and transition. Author William Bridges said that change is situational and transition psychological.
Change is quick, sometimes very quick. It is constant and starts something new, whether it be internal or external. It can be marriage, divorce, loss of a loved one, etc. In organizations it is structure, roles, responsibilities, policies, procedures, protocol, etc. Change is an accepted principle of human nature because most are aware of the fact that they have little or no choice in the matter.
If leaders have a clear way forward, human beings are amazingly resilient. There is a documented "rally effect"

Jim Harter, 2020
As leaders we manage change, we understand change and we attempt to model stability through flexibility and mental structure. We understand that change is necessary in order for organizations to grow and develop. The key to our success is putting our oxygen mask on first – taking care of our well being first, so we are in a position to lead others through the transition. Not change – transition.
Transition on the other hand is a process that people go through to deal with the "NOW" Normal (eg: Skype, Zoom, Ring Central, Microsoft Teams). Leadership in the Transition period is critical because in an unprecedented crisis (eg: COVID – 19) there is no proven plan or structure to model our actions against. People understand transition in terms of endings (eg: survivor remorse) and endings begin with leaving things behind. Letting go is experienced internally and may or may not be visible to others because of working remotely. Successful leadership in the post COVID – 19 environment is determined by the leaders ability to lead people through the transition sector.
With that in mind, the following Three Stage Transition Model may help leaders ease the uncertainty and facilitate the transition.
Stage One: Ending & Letting GO.
Stage One is underscored by the fact that people fear what they don't understand. The key to leadership success is to nurture relationships to get the job done and communicate a clear plan of action. Critical success factors are:
Define what is and what is not over
Identify what's being lost, gained and changed
Identify new team responsibilities, expectations and accountability
Educate team members about a positive future
Prepare team members to do their future jobs
Practice social distancing and the use of PPE where deemed applicable
Communicate how team member knowledge and skills play an essential role in arriving to the New Beginning
Stay connected with furloughed employees
Stage Two: Managing The Neutral Zone.
Stage Two illustrates that people are feeling lost and are in need of a solid sense of direction. Information is key to team member success and from a leadership point of view, making the situation sustainable is the foundation to a New Beginning. Performance factors may include but are not limited to:
Provide consistent and timely feedback
Keep team members in the change information loop
Set short term goals and place long term goals on the "back burner"
Celebrate wins
Schedule meetings and information updates on a regular basis
Maintain anchors and work practices.
Prioritize the work that needs to be done using the important vs urgent grid
Make shifts to aid team members in managing workload and stress
Don't expect perfection – completion will do quite nicely
Balance shortcomings with problem solving
Look for opportunities amid confusion
Keep your eye on the Vision
"change is situational and transition is psychological".

William Bridges, 1992
Stage Three: The New Beginning.
Stage Three, is a great place to be. As people adapt to change; they will require help to adopt the nuisances associated with sustaining the changes itself. Some coaching techniques to consider are:
Leverage the moment
Reinforce the "NOW" Normal
Reimagine the new culture
Practice respect and social distancing
Highlight stories for success that were brought about by the change
Take time to celebrate the change that you have gone through
Establish direction, alignment and commitment to the longer term goals of the business unit and / or organization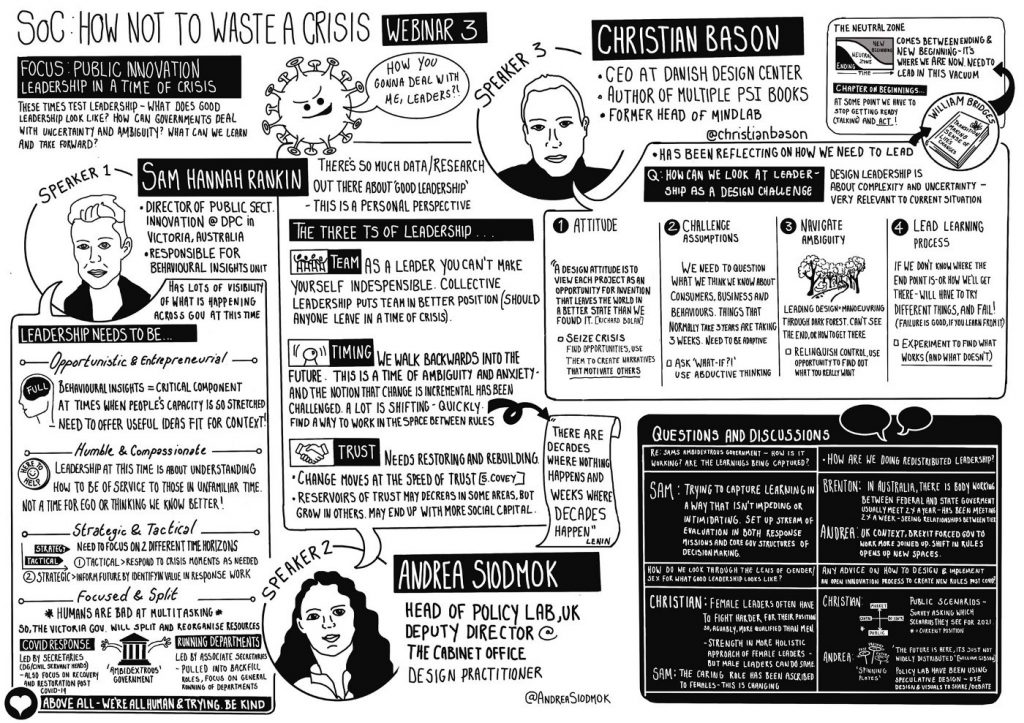 Summary.
Organizations have done a wonderful job to ensure employee's physical safety. They've implemented work from home measures, sanitized work areas and adopted contactless delivery. Beyond safety, they're engaged in employee security. Many have worked to keep employees on the payroll, applied for government financial intervention measures, provided child care solutions, have endorsed senior executive pay cuts and implemented work sharing programs so that employees can invest more time with their families.
All the aforementioned deliverables are great. They are all welcome and they work however, we as leaders need to address employee self esteem and self actualization needs. The Three Stage Transition Model will aid leadership in their quest to accomplish such a task.
Leadership is strengthened by continually referring to the big picture by anchoring meaning and resisting the temptation to feel sorry for others. Leadership in uncertain, rapid changing crisis means making oneself available to all team members and leading with empathy. Leaders are encouraged to think with a high level of empathetic intelligence and create a path forward for all to follow. Communication for acceptance, problem solving, creativity and participation will be part of the NOW normal so, adapting now may be in your best interest.
About The Author.
Nicholas Pollice is President of The Pollice Management Consulting Group located in Southern, Ontario, Canada. An international presenter and consultant, he is known as a leader in operations management. Nicholas conducts programs in leadership, supervision, communication, negotiation and conflict resolution. He has been a consultant since 1989 and is the author of several professional publications. His presentations have been consistently ranked in the top10 % throughout North America. See Nicholas' bio, his other publications and services on the PMCG. Website at www.pollicemanagement.com