Virtually everyone is concerned about the COVID-19 crisis and feeling fear and trepidation about the future. The situation ALL of us are facing is unprecedented… and, consequently has no specific and detailed roadmap to help us through. So, if you are feeling sad, scared, anxious, worried, vulnerable, … please know that you are not alone. What we are going through right now SUCKS – big time! There is no denying this reality. To make it through these increasingly trying times we need to discover and practice ways to make sure we do not get.
STUCK in the SUCK
Fear is a big part of what drags us down and is the glue that can keep us in the cycle of doom and gloom. The fears we may have include the fear of contracting the COVID-19 virus; loved ones getting sick; death of family and friends; becoming unemployed; being disconnected; losing savings and financial security; becoming homeless – and the list goes on and on.
This sense of discomfort and despair may be related to anticipatory grief – the grieving of potential losses this uncertainty and lack of normalcy may bring. For most of us though, the likelihood of these worries actually coming to be is much lower than we imagine. This type of FEAR can be defined and characterized as…..
"Fantasized Experiences Appearing Real"
Under the current circumstances these fears are ever present and fueled by the barrage of hourly news updates and the constant reinforcement of the same through various social media channels – it is almost impossible to tune it out. One strategy we can apply though is to shift FEAR from the above definition to this alternative perspective on FEAR …
"Focus Efforts At Reality"
The reality is this crisis is happening and one of the first "efforts" we can do is to acknowledge out feelings. The trick is to acknowledge them, but not to dwell on them such that they consume you and drag you deeper into the "suck" – in other words, we need to schedule some time to worry and then limit the amount of time we worry and expose ourselves to the things that trigger our worry. There are some great techniques that can help with this type of focusing including the container exercise or creating a worry box. Once our worries are "parked", we can channel our efforts by dealing with the real.
"Deal with the Real"
This means seeking facts and truths that are helpful for what is clearly at hand and using this information to focus your efforts on what you can do, what you can influence, what is within your control to act on. Most importantly in this regard to COVID-19, it is to diligently practice good personal hygiene and maintain social distancing by staying home.
There are so many other efforts you can undertake depending on the reality of your personal situation – people within my network and community have shared efforts they are undertaking, things like: reaching out virtually to be a social contact to people in isolation; arranging home delivery of groceries and necessities for seniors; offering to help with free resume preparation for those looking for work; providing dog walking services for health-care workers; to name a few.
Equally important to the shift from paralyzing FEAR to focusing efforts at reality is the third take on transforming fear to
"Fine-tune Energy Around Resilience"
Stress, anxiety and worry – especially if we end up Stuck in the Suck – will drain us and can result in many other health issues and less stamina to make it through.
It becomes increasingly important to incorporate self-care and personal growth / well-being into our daily practices.
This graphic from the Reinvention Society FaceBook page provides a good visual that parallel these three takes on FEAR. Working with and through each FEAR perspective may help you cope with the uncertainty and insecurity abounding in our world today.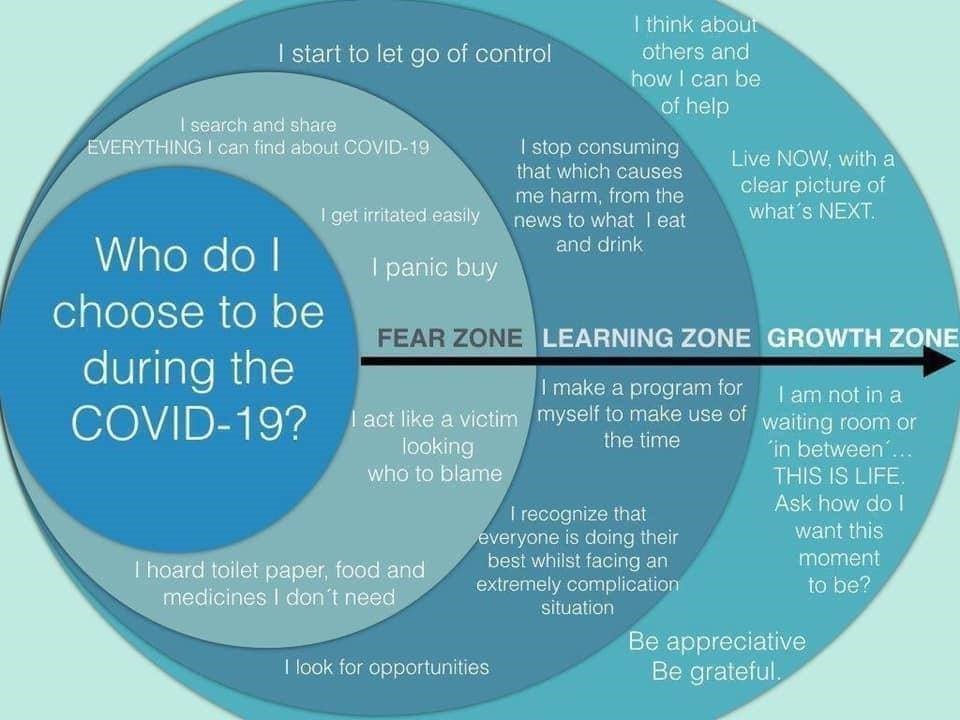 Here's hoping you find calm, comfort and resilience in managing through the COVID-19 days ahead.
About The Author.
Mike Farrier is President of Vocare located in Calgary, Alberta, Canada. A Human Resources Professional and consultant, he is known as a leader in Coaching & Leadership Development. Mike and the Vocare organization have had a strategic alliance with the Pollice Management Consulting Group since 2003 and is a guest speaker and facilitator with Pollice Management. For further details visit our Website at www.pollicemanagement.com