For the past couple of years, many of us, individually, organizationally and communally – have been stuck in a state of "LUMU" (Living Under Maximum Uncertainty). Now it is also time to find ways to get out from under the shadow of LUMU. We can do this by finding ways to shift our perspective from a LUMU outlook to a LIMI way of being. LIMI is "Living Into Meaningful Innovation" and comes about through individual choice and action.
Our ability to successfully make this shift is directly related to how we "C" (see) the situation.
When we are plagued by relentless uncertainty and unknowing, we can become very reactive and often negatively so as a survival / coping mechanism. Our way of seeing is trapped by circumstances that impedes or paralyzes our ability to move forward … our "C" is stuck and reduced to……reaCtive
Moving forward by LIMI requires a different point of view and a shift in our thinking; a way of looking for possibilities and being open to explore new pathways and new directions. LIMI is about taking actions that will result in meaningful innovation. Innovation in this application does not have to be some earth-shattering breakthrough. Our response and ability to move forward (individually and collectively) to the 'new normal' post pandemic requires fresh eyes, new ideas, inspiring thoughts and actions, no matter how small. We need better and yet to be developed solutions to meet evolving requirements, unarticulated needs, old and emerging challenges. We need to move the way we "C" from being trapped in the middle of being reactive; move it to an unobstructed leading and visionary way of seeing. The "C" shift from the middle of reaCtive to leading the way (at the front of the word) opens us up to being……………Creative
Undoubtedly this is not a simple shift and the risks of COVID-19 along with economic and geo-political instability are still present and significantly affecting our lives. We continue to struggle with figuring out what's next, where do we go, and how do we get there. How do we get "back to normal"?
For many of us we have been longing and questing to return to the "normal way of life" we knew before the COVID-19 pandemic impacted and altered our world. We are eagerly anticipating a new normal that returns us to a place of comfort and predictability – and it is looking like this state may soon arrive!
However, it is highly likely that any normal that emerges can and probably will be rocked again by another pandemic event or world event that will significantly shift the context of how we live our lives. With this in mind, perhaps the only reliable "normal" is the setting on a washing machine!
The Normal:
Our desire for normal – the usual, average, typical, routine state or condition – is normal! Coping during times of great disruption and focusing our ability to "reset the dial" to achieve a state or condition we see as normal, can be significantly impacted if we shift our perspective to a new view of what creates NORMAL:
N – Neutral and Nimble:
The strength of our attachment to a way of being can be very helpful. In times where significant change is needed, it can also become a hindrance. If we can disengage somewhat from our predisposition to a particular standard, to shift gears to neutral (so to speak), we release energy and effort from maintaining and preserving that can be harnessed to drive us in new directions. From this space of detachment we are also able to be more nimble – to respond more quickly and fluidly to the situation at hand. We are now in a position to be…………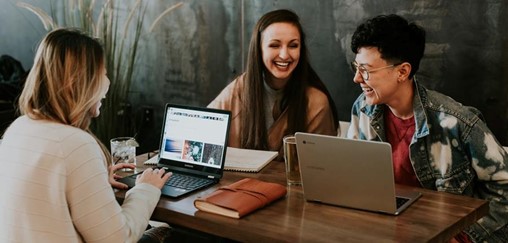 O – Open-minded and Opportunistic:
Minds are like parachutes; they only work when they are open and to that end, you cannot change a mind until it is opened. To move forward in establishing a different state of normal, we need to be open-minded to possibilities and oriented to look for opportunities rather than obstacles. Exploring these opportunities is enhanced and enriched when we are also open to and embracing of diversity of thought, which is reliant upon…………
R – Relationships
The human experience exists in relationships – relationships with nature, the environment, and each other to name a few. Our sense of community emerges through recognition of our common humanity. Focusing on what we have in common that unites us rather than what divides us creates relationships and communities that collectively have impact, make a difference and improve the human experience by aligning to…………
M – Meaning & Purpose
It is human nature to want to be significant, to know that what we are doing, building and moving towards has meaning and purpose. Meaning and purpose creates the motivating drive to transform and transition to new and better ways, a different state of normal, by being…………
A – Adaptable
Adaptability is a trait that in nature and evolution has ensured survival. Adaptability is being able to respond and adjust to new conditions and the capacity to modify (and be modified!) for a new use or purpose. Being flexible and motivated to adapt and change as necessary makes us less discouraged by failure or setback and generates creativity to explore alternatives. This creativity is fueled by…………
L – Learning
A whitepaper published by Cisco in 2010 noted:
"Learning is fundamental to the progress of humanity—for economic prosperity, social well-being, personal fulfillment and to help ensure a sustainable planet.
In the future, learning will become substantially more important to every part of global society."
As Albert Einstein once noted, you cannot solve a problem with the same mind that created it. The past 15 months (and counting) have reinforced that our success is unequivocally linked to continuous learning and creating new mindsets to meet the challenges we will inevitably face going forward, in all the communities we are part of. Each of us can benefit from continuing to learn, explore new ideas, draw upon well-informed and peer reviewed research and embracing diversity of thought to come up with new ways of being and doing.
Perhaps the first challenge will be letting go of the "normal" setting on the proverbial washing machine of our lives and exploring this alternative view to what NORMAL is. From this perspective we (individually and collectively) will be able to create multiple new settings that will make us more creative, resilient and equipped to generate success no matter the circumstances are that disrupt the normal we are in…
About The Author:
Mike Farrier is a guest writer and associate with the Pollice Management Consulting Group. His office is in Calgary, Alberta where he is a senior Human Resources executive and consultant focused on guiding organizations, teams and individuals in realizing and achieving their full potential. An adjunct professor at the University of Calgary, Mike is an expert in Organizational Development and Strategic Planning.  As Albert Einstein once said, "you cannot solve a problem with the same level of consciousness that created it" – as an Human Resources Disruptor, Change Agent, and Certified Executive Coach (CEC), Mike changes consciousness by effectively blending challenge with innovation and employee engagement to create impact and lasting value.  Mike has a BSc and MBA in the Management of Organizations and Human Resources and holds the CPHR and SHRM-SCP designations as an HR Professional.