As the global community began to emerge from the COVID – 19 pandemic, along came the Omicron variant challenging business leaders to re craft the foundation in which their organization must confront unstructured and undefined challenges in a very difficult and unpredictable world. If COVID taught us anything on a personal basis it taught us that; life is short, your savings can save you and wealth is health. On a business level COVID taught us that businesses that are not flexible and adaptable risk becoming obsolete.
Most leaders that I have spoken with understand that transformation is imperative in staying in the race over the next two to three years because it creates the foundation to build organizational success however, research shows that few leaders understand the connection between corporate transformation and culture change. A recent study by the Massachusetts Institute of Technology (MIT) and the Boston Consulting Group (BCG) found that organizations that focused on culture change were five times more likely to achieve future success. Culture change supports changes in organizational behaviors, norms and the transformation process because it is designed to improve organizational efficiencies, client relations and innovation.
"leaders need to understand that culture is dynamic and that change will happen in organizations even if they do nothing to guide it; employee values, mindset and behaviors evolve rapidly and these changes may not be the ones the organization needs to be successful."

Rose Hollister. Leadership Consultant, Genesis Advisors
Organizational Culture:
Most if not all leaders agree that organizational culture exists and it plays a crucial role in shaping behaviour in organizations. On the other hand, there is little consensus on what organizational culture actually is, how it influences behaviour and whether it is something leaders can change.
Organizational culture is defined as being the norms and behaviours as to how we do things on a daily basis. It is propped up by a shared set of values (what we care about) and exists to align efforts and make sense about what works and doesn't work for our organization.
Having the wrong culture will undermine strategy and execution of organizational development plans. Leaders ought to be cognizant of the famous Peter Drucker phrase; "organizational culture eats organizational strategy for breakfast". Due to the fact that people and culture are essential elements to organizational success, being proactive in these two areas increase the probability of success.
Senior leaders can easily get "caught up" in their own perspective as to what the corporate culture is because, they may be too accustomed to their own norms and ideologies. This is where front line employees can help identify cultural beliefs and behaviours that are interwoven in the organizations social and business fabric and that in turn, can play a vital role in the transformation process.
Cultural Transformation Model:
All organizations are different and leaders must be adaptable to the specific contexts and normalities and / or abnormalities in which the organization operates. In other words, there is no one best way to transform culture however, a five point Transformation Model may be helpful because it supports innovation, adaptation and flexibility.
Customer: understanding and prioritizing the needs of the customer while partnering with the customer for future success.
Employees: employing employees who are engaged, willing to learn and develop and action oriented.
Management: Managers who understand the need to work in an environment that pontificates teamwork, understanding and transparency and ridding the organization of those managers who do not fit that pattern.
Leaders: having leaders who engage and empower people to take intelligent risks and are committed to action because, they know its right and needs to be done.
Mindset: crafting and encouraging a rapid learning culture that underscores the "we can do anything we put our mind to" attitude.
How Might Leaders Change Culture?
Changing organizational culture can be a difficult task. Although, a number of employees may welcome change there are hundreds of others whose habits have become engrained in their minds. This is especially true if organizations are successful because the non conformers say why change; we are making a profit, if it isn't broke – don't fix it attitude.
To illustrate the challenge, let us consider John Bosela, President of Kaumeyer Paper in Thorold, Ontario. In 1975, John along with Frank Leslie purchased the company from Ruth Kaumeyer. John inherited the operations end of the business while Frank took charge of the marketing and sales portfolios. Subsequently, Mr. Leslie sold his shares to Glen Mumberson who became an equity partner along with John and took the lead in sales – marketing portfolios.
From an operations end, what John discovered is that he and his partner not only purchased a company, they had also purchased a disengaged workforce with a high sense of entitlement and a me only attitude coupled with a product line whereby 60 % of all products were either obsolete or not profitable.
The company was not a large player in a rapidly changing industry and was suffering the stresses and strains of not being flexible and adaptable in entering into new markets of rapid growth and strategic development. John discovered that Kaumeyer was not in a position to be customer focused, innovative and employee centric. The solution appeared to be obvious; change the culture or perish. John and Glen had a vision that included offering exemplary service that met and exceeds the customers expectations by:
Guarantying cost efficiency while never compromising quality,
Promoting Canadian manufacturing and Canadian-made products,
Presenting innovative new products, ideas and strategies that will both enhance the customers' image and provide opportunities for cost savings.
So, with that strategic mindset the culture transformation journey began.
John and Glen first defined the desired culture in the form of sound leadership practices. They asked themselves; what type of behaviours do we want from our leaders and are our leaders role models for others to follow. Leadership behaviour and attitudes were the major focus at this early stage. A sound communication strategy highlighted by open team and individual discussion was also utilized in supporting teamwork, leadership and employee engagement. Some / most employees were on side while some decided to stay in the old form and not participate at all. Recognizing that this was an issue moving forward, John took the bold step of strategically "weeding out" the naysayers by implementing performance management systems that incorporated goal setting, people processes and reward systems. The leadership team also embarked on a process that allowed front line employees and leaders the opportunity to understand why the team needed to change focus, be more adaptable and grasp the consequences of not doing so. By aligning employee skill sets, leadership behaviours and the desired culture, Kaumeyer was able to hire differently and develop new competencies for all of their teams and embed the desired culture into the daily work environment.
John and Glen also realized in the aforementioned scenario is that; such a cultural transformation journey cannot be a delegated task. If a company is to be successful in this arena, the CEO's had to face change head on and be the voice and advocate of change.
"senior leadership must align, balance, empower, articulate, communicate and demonstrate their own growth and development, encouraging even the most nuanced cultural shift."

Michael Watkins. Professor, Leadership & Organizational Change, IMD Business School.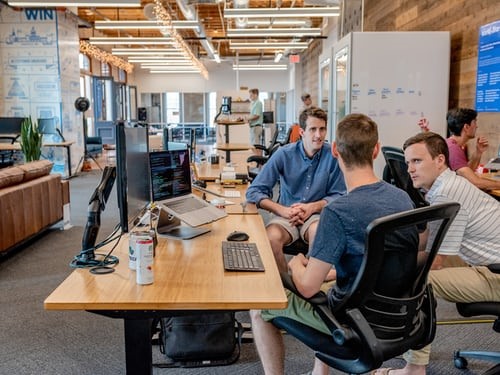 Start with the why……….It's good to communicate with your people and even better to take action in a positive direction however, if your people don't understand or know why these actions are important; chances are – they won't support it. In absence of critical information like why are we doing this….anxiety, malicious obedience and resistance take form. It is important for leaders to let their people know why we are doing what we are doing, explain the rationale and consequences as well as, the need to change. People also need to understand how the cultural change will affect them and what role they are expected to play.
Invite input from the masses……….One way to ensure full support and commitment to change is to receive input from the masses. People will support the things that they help create and establishing culture coalitions will lead to engaged culture champions and reach all employees. By embedding cultural norms throughout the organization front line employees become change advocates and sustainers of change.
Target behaviours……….Creating a clear illustration as to what the future state will look like, is essential to the cultural transformation process. As Kathryn Tecosky said; "the definition of desired culture must be specific yet flexible enough to shape and influence an organization's performance, from front lines to the CEO. The place to start is defining the target front line culture and identifying leadership and organizational systems that will support and reinforce it".
Create a transverse platform to the future……….A critical element associated with transformation is considering the good the organizations currently does and ensuring that these are preserved. Since the past ought to be a springboard to the future, organizations may wish to leverage those current strengths that are woven into the existing fabric of culture and make them key aspects of the future culture. At Kaumeyer, John Bosela quickly realized that guarantying cost efficiency while never compromising quality and presenting innovative new products, ideas and strategies were deeply embedded cultural aspects that needed to be moved forward.
Reinforcement……….It isn't enough to talk the talk……leadership needs to walk the walk in order to reinforce the desired culture. Employee recruiting, training, assessments, internal and external processes and the way we do things, all need to be modified and updated regularly in order to drive the cultural change.
Summary:
Cultural transformation is an evolution not a revolution and it is very challenging to say the least. People are most apt to support those things that they create so, including them in the transformation process is wise. Depending upon the breadth and depth of change, cultural transformation can take anywhere from 12 – 36 months and celebrating spot successes are essential. With any journey, cultural transformation has to have a why, how and identified need because these are the pillars that others will relate to.
About The Author.
Nicholas Pollice is President of The Pollice Management Consulting Group located in Niagara, Ontario, Canada. An international facilitator, presenter and consultant, he is known as an operations management leader and coach. Nicholas conducts programs in leadership, supervision, communication, negotiation, conflict resolution and strategic planning. He has been a consultant since 1989 and is the author of several professional publications. His presentations have been consistently ranked in the top 10% throughout North America. See Nicholas' bio, his other publications and services on the PMCG. Website at www.pollicemanagement.com